The Sentinel Initiative began in 2008 as a multi-year effort to create a national electronic system for monitoring the performance of FDA-regulated medical products. The Initiative is the FDA's response to the Food and Drug Administration Amendments Act (FDAAA) requirement that the FDA work with public, academic, and private entities to develop a system to obtain information from existing electronic healthcare data from multiple sources to assess the safety of approved medical products. Sentinel's work focuses on drugs, vaccines, and other biologics (such as blood products).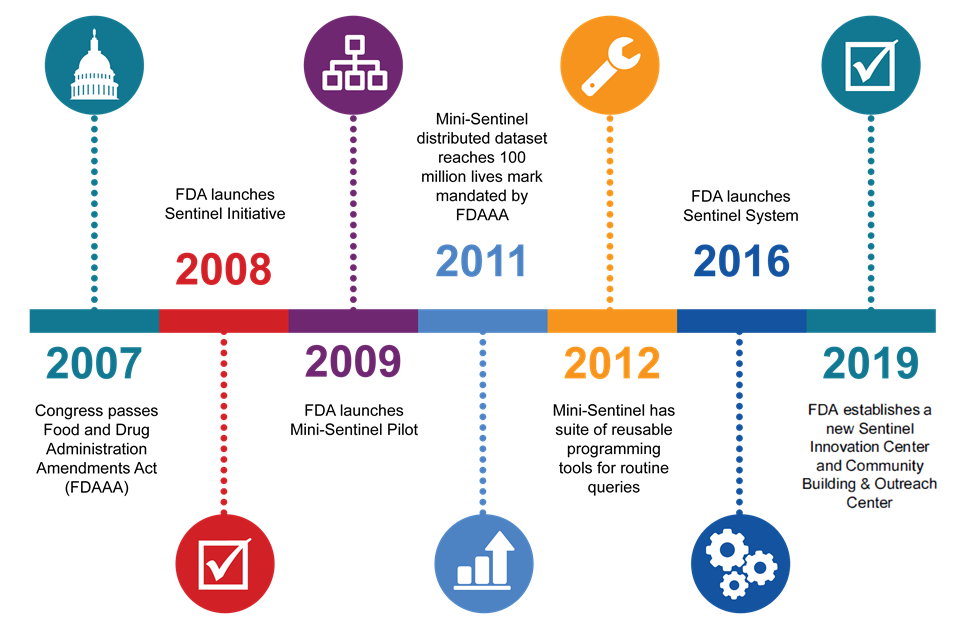 Sentinel's Major Accomplishments
Establishment of the Sentinel Operations Center
Creation of a common data model and distributed data approach that enables FDA to monitor the performance of medical products while securing and safeguarding patient privacy
Development of a distributed database with more than 300 million person-years of high quality, unduplicated, curated data
Development of processes for turning FDA's safety concerns into queries of the Sentinel distributed data that can be responded to rapidly by Data Partners, often within weeks, in support of FDA's regulatory needs
Substantial progress toward development of a mature data analytics system
Recruitment of a broad group of scientific collaborators who regularly provide the FDA with valuable technical support in evaluating electronic health data
Development of focused surveillance efforts around vaccine safety with the Postmarket Rapid Immunization Safety Monitoring (PRISM) system and around blood and blood products with the Blood Surveillance Continuous Active Network (BloodSCAN)
Expanding Data Sources and Core Capabilities
Currently, the Sentinel Distributed Database is comprised largely of administrative and claims data from health insurers. Efforts are underway to augment this data with:
Clinical data, including vital signs and laboratory test results
Electronic health records
Hospital data
Medicare data
Disease registry data
Integrating the Sentinel System into the FDA's Regulatory Programs
The Active Postmarket Risk Identification and Analysis (ARIA) system, mandated by FDAAA, enables the Agency to evaluate some safety signals in the postmarket setting more effectively, using Sentinel's automated tools.
Early Warning System
FDA is working to refine existing methodologies and develop new and innovative approaches to support safety surveillance, focusing on ways to identify unexpected safety concerns.
Supporting the Development of a National Resource
FDA's efforts to date have focused on developing Sentinel to serve as a tool for safety surveillance by FDA. The FDA is now actively engaged in promoting synergies and identifying opportunities for broader use of the data infrastructure used by Sentinel for other purposes within the public health arena. The FDA is working with National Institutes of Health Collaboratory Distributed Research Network and the Patient Centered Outcomes Research Network (PCORnet) and others toward this end.
Additional Information
Additional information about the Sentinel System and its precursor, Mini-Sentinel, is available in the reports and publications listed below and elsewhere throughout this site.